CLIMATE CONSCIOUS
Nêô Sephiri was founded on the basis of a climate intervention following a recent drought, which severely impacted the Kalahari and its communities.
From the research to production of our sustainable skincare product, true sustainability is the foundation of our DNA and at the heart of our ethos. 
From reusing 95% of the melon as organic fertiliser and feeding our farm animals the leftovers from cold-pressing, to only using conscious packaging, we are fully committed to our purpose.
Our Packaging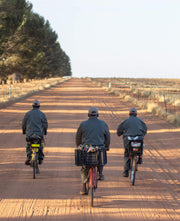 TRUE SUSTAINABILITY
Means we are devoted to a multifaceted approach, encompassing ecological, economic and social impact.
Drought-resistant Biology
Once an agricultural heartland, our region is now experiencing acute climate change, with frequent droughts becoming the new norm. However, while traditional crops wither away, the Kalahari Melon remains.
This wild melon has evolved resilience to the desert's extreme ecosystem, locking in water by shooting its roots deep into the ground. This means no irrigation and a production process in sync with local ecology.
By harvesting a native plant that grows in abundance despite low rainfall, we are causing absolute minimal disruption to the natural environment and helping to slow desertification.

A TOOL FOR ECONOMIC DEVELOPMENT
In 2018 alone, more than 30,000 jobs were lost in South Africa as a direct result of drought. Many farmers have been forced to sacrifice their land or scale it down significantly.
By taking climate action and harnessing the drought-resistant biology of the Kalahari Melon, we are securing livelihoods for marginalised communities in South Africa.
Kalahari Melon Oil is not just another skincare ingredient. It is a powerful tool for sustainable economic development in a remote part of the world, where climate change is really being felt.
POSITIVE HUMAN IMPACT
Frequent and severe droughts, as a result of climate change, have brought economic hardship upon the Kalahari. Unfortunately, in our region such hardship has contributed to social issues.
By securing lost livelihoods, providing high quality work and offering upskilling opportunities, we are amplifying real impact to the people who have felt the effects of climate change the most.
In adding value back to our region, we endeavour to alleviate the strain felt by local communities, improving the quality of our workers' lives and reducing inequality.